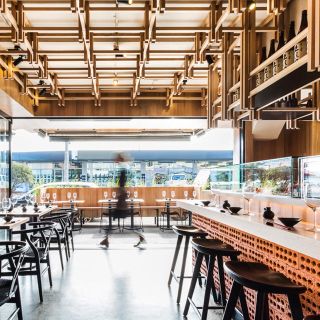 1. Y14 Japanese Seafood Kitchen & Bar
Japanisch | Sandringham
Heute 14 mal reserviert
Y14 serves modern dishes that combine Japanese technique with Australian produce by Chef Tatsuya Yamazaki. You can eat-in, or takeaway sushi and our signature Donburi 'rice bowl dish' consisting of fish, meat, vegetables and more, simmered together and served over freshly steamed rice.

2. Harbour View Restaurant
Aus Dem Meer | Sandringham
At the Harbour View Restaurant guests enjoy a relaxed, stylish dining room setting with unrivalled views of Port Phillip Bay, the SYC marina and Sandringham harbour. Sophisticated menus present only the freshest seafood, local produce and where possible, organic ingredients. Whether you're looking...
Gebiete in der Nähe von Sandringham
Worauf haben Sie Lust? Nach Art der Küche suchen
Finden Sie die besten Restaurants in Ihrer Nähe
Essen in der Nähe von Sandringham Hot Spots